Sarah Watts is an award winning British bass clarinettist who has gained an international reputation for her work .
Her performances on both clarinet and bass clarinet as a soloist and chamber musician have led to numerous CD releases and invitations to perform all over the world. Sarah is passionate about teaching and in addition to being the visiting teacher of solo bass clarinet at the Royal Northern College of Music, she hosts and tutors several courses for adult amateur musicians in the UK and France.
A keen researcher, Sarah is an expert in multiphonics for the bass clarinet and has published a leading resource on this subject.
Sarah is a Selmer Artist, a Vandoren UK Artist and Silverstein pro artist.

" In 26 years of attending PLG events I cannot recall hearing a solo bass clarinettist before. But Sarah Watts, almost dwarfed by her instrument made the wait worthwhile with assured and well-characterised performances"
The Times.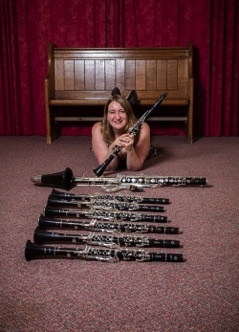 Sarah Watts and Elizabeth Kelly gratefully acknowledge support from PRS for Music Foundation.
Premiere Details on the
events page
'The Princess and The Bear' is now released on the Hyperion Label via CD and itunes.
Sarah makes an appearance on clarinet performing Strauss Duet-Concertino and trios for clarinet, bassoon and piano with Laurence Perkins, Martin Roscoe and the Royal Scottish National Orchestra conduced by Sian Edwards.